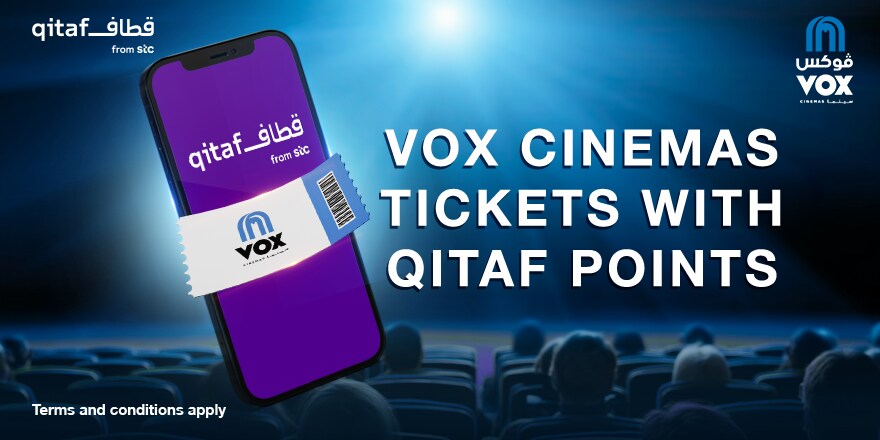 Pay with your STC Qitaf loyalty program points at VOX Cinemas!
To avail the offer, please follow these steps:
Select your movie session Log in as a VOX member. Please note that the offer cannot be redeemed if you check out as a guest.
Select the number of tickets and add your food & beverages.
Skip the offers and go to the payment page.
Choose to pay with Qitaf points on your reservation on the payment page.
Enter your mobile number registered in Qitaf.
Determine the amount to be paid in Qitaf points.
Request a verification code.
Enter the verification code.
Confirm the offer.
Pay with your STC Qitaf Points.
Use your credit card to pay the remaining balance if necessary.
Terms and Conditions:
The offer is valid for all active users of STC Qitaf loyalty program.
The offer is available at all VOX Cinemas KSA locations and all experiences.
Payment can be made with Qitaf points for movie tickets, food and drinks on the VOX Cinemas website or application only.
For partial payment using Qitaf loyalty points, users must enter card details to complete the payment for the remaining amount, and then proceed to complete the purchase.
For full payments using Qitaf loyalty points, user must click on complete the purchase button once the points are applied to confirm the booking.