Are you ready to experience the most luxurious cinema in the world from the heart of Riyadh?
Just Imagine More, this year, we bring to you a never-felt-before experience featuring a magical experience full of wonders, laughter, elegance & so much more.
Everything you can imagine will be real. The Renaissance Theater!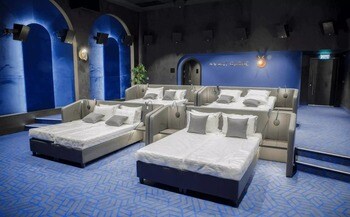 Avant Garde
Boundless comfort. Adistinctive and luxurious cinema experience. Spoil yourself while watching movies in this exquisite theatre.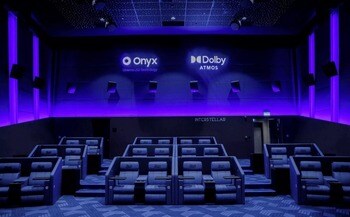 Interstellar
A groundbreaking, distinctive and luxurious cinema experience, combined with cutting-edge technology.
* Can be booked by the seat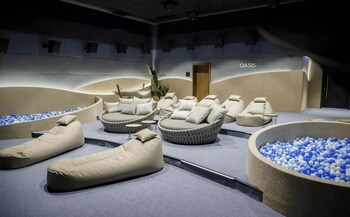 Oasis
The Oasis cinema is perfect for a relaxed and fun atmosphere, while the Dolby Atmos audio and Samsung Onyx visuals guarantee an unrivaled cinematic experience.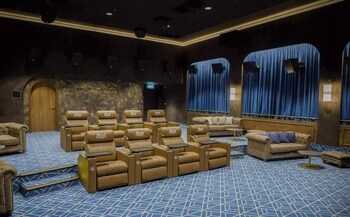 Orient Express
Select a movie and bring your family and friends to enjoy it in this vintage style hall while experiencing it through the latest audio and video technology.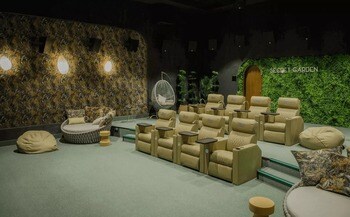 Secret Garden
Whether you prefer to sit or lay down while enjoying your movie, the Secret Garden cinema is fitted with top of the range luxury reclining seats.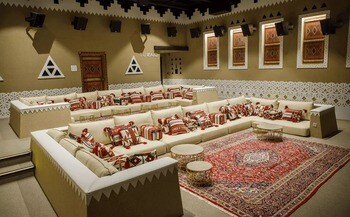 Tuwaiq
If you want to enjoy your movies feeling like you're at home, but with the state-of-the-art audiovisual technology, Tuwaiq is the cinema of your choice.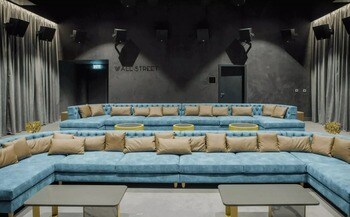 Wall Street
This uniquely constructed, hand crafted luxury cinema pod combines pioneering technology with exquisite taste.
For reservations and inquiries
Book your private screen at the world's most luxurious cinema to enjoy the latest blockbusters in the comfort of your own private theatre for three hours, alongside your loved ones. Indulge in our VIA Riyadh menu food package to enhance your movie-going experience. Don't miss out on this unforgettable cinematic experience.

Wall Street, Tuwaiq, Secret Garden, Orient Express, Oasis, Avant Garde