VOX Cinemas at The Roof in Riyadh
Head up to The Roof and you'll find one of the region's latest attractions - VOX Cinemas at The Roof Riyadh. With eight screens to choose from and seating for up to 553 movie fans, it's the perfect destination for a night out. If you've got little ones who are as passionate about movies as you, try the KIDS theatres where kids can watch the latest Disney or Pixar animations in complete safety, and in an environment, that's designed especially for young movie fans. Start the trip off right with a visit to one of the many food outlets, including a Nutella Store and treat yourself to crepes, waffles and pancakes, or pick from classic cinema snacks such as popcorn and nachos at VOX Cinemas' Candy Bar. Easy on-site parking and plenty of retail opportunities nearby make this a great day out for the whole family.
Address: 2886 Northern Ring Branch Road, Al Aqiq, Riyadh 13511 6332, Saudi Arabia
EXPERIENCES AVAILABLE
Try something new every time you visit VOX Cinemas. With over eight unique moviegoing experiences, you'll never get tired of watching movies in style! How will you be watching the latest blockbusters?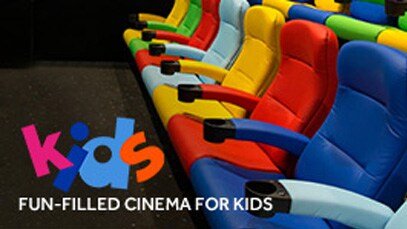 KIDS
KIDS is a unique cinema concept built just for little movie fans. Children and parents can watch the latest animation, action and adventure films in our family-friendly colourful cinemas.
---
Food and drinks
For every film, there's the perfect snack. Whether it's sweet or salty popcorn, chocolate treats, or something a little more sophisticated, VOX Cinema's selection of food and drink complements your viewing experience perfectly.
Click on the button below to know more and to check out the menus.